FFP2 protective mask EasyCHEE® Powstay PM01A, with nose padding, 10 pcs box
The POWSTAY PM01A particle mask by EasyCHEE® meets the requirements of the European Standard EN149:2001 + A1:2009 "Respiratory protective devices / Particle filtering half masks" for protection against particles and complies with the requirements of the protection class FFP2 in this standard. It therefore offers effective protection against non-volatile solid and liquid particles (dusts, smoke, aerosols, aerosol mist).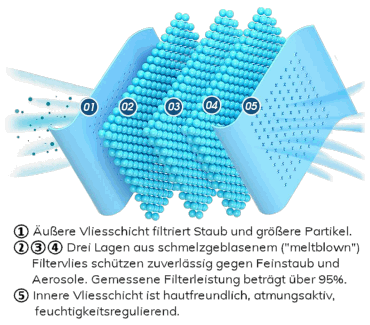 Summary:
Respiratory protection masks of the European standard EN 149:2001 with A1:2009, protection class FFP2
5-layer filter, padded nose clip, optional retaining clip
with CE marking, EU declaration of conformity, EC type examination certificate
European packaging and multilingual information brochure (DE/EN/FR/IT/ES/NL)
GTIN (EAN) bar code for retail trade and PZN for pharmacies (DE,AT)
The mask without a valve filters both inhaled and exhaled air and therefore offers not only self-protection, but also additional protection for all persons in your environment.
The attractively designed sales packaging contains ten hygienically individually packed protective masks optimised for safe continuous use, as well as a multilingual information brochure. Especially the high wearing comfort and high safety standards are suitable for long-term use. Folded flat and individually packaged, the masks are also ideal to take away.
EasyCHEE® POWSTAY PM01A has passed the complete European conformity assessment procedure with the EC type examination. The mask carries a CE mark with a four-digit Notified Body identification number and is fully certified. So you can be sure that our masks provide the necessary protection.
In addition to the GTIN (EAN) barcode for retail, the respirators also have a Pharmacy Central Number (PZN) for German and Austrian pharmacies.
Special prices for retailers, pharmacies, medical and care institutions on request!
Scope of delivery: 10 individually packed respirators in the sales packaging.
---
Shipping weight:
0,10 Kg
Product weight:

0,10

Kg

Contents:
10,00 mask